---
[ILLUSTRATION: THE AUTHOR ON HIS HORSE KOCHBA]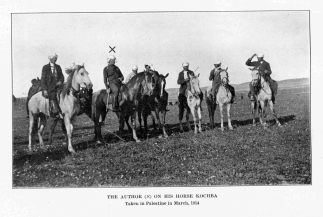 In the evenings, then, the Arabs would come up to chat. As they speak seldom of their children, of their women-folk never, the conversation was limited to generalities about the crops and the weather, or to the recitation of never-ending tales of Abou-Zeid, the famous hero of the Beni-Hilal, or of Antar the glorious. Politics, of which they have amazing ideas, also came in for discussion. Napoleon Bonaparte and Queen Victoria are still living figures to them; but (significantly enough) they considered the Kaiser king of all the kings of this world, with the exception of the Sultan, whom they admitted to equality.
Seldom did an evening pass without a dance. As darkness fell, the Arabs would gather in a great circle around one of their comrades, who squatted on the ground with a bamboo flute; to a weird minor music they would begin swaying and moving about while some self-chosen poet among them would sing impromptu verses to the flute obbligato. As a rule the themes were homely.
"To-morrow we shall eat rice and meat," the singer would wail.
"Yaha lili-amali" (my endeavor be granted), came the full-throated response of all the others. The chorus was tremendously effective. Sometimes the singer would indulge in pointed personalities, with answering roars of laughter.
These dances lasted for hours, and as they progressed the men gradually worked themselves up into a frenzy. I never failed to wonder at these people, who, without the aid of alcohol, could reproduce the various stages of intoxication. As I lay by and watched the moon riding serenely above these frantic men and their twisting black shadows, I reflected that they were just in the condition when one word from a holy man would suffice to send them off to wholesale murder and rapine.
It was my good fortune soon to be released from the noise and dirt of the mosque. I had had experience with corruptible Turkish officers; and one day, when barrack conditions became unendurable, I went to the officer commanding our division--an old Arab from Latakieh who had been called from retirement at the time of the mobilization. He lived in a little tent near the mosque, where I found him squatting on the floor, nodding drowsily over his comfortable paunch. As he was an officer of the old régime, I entered boldly, squatted beside him and told him my troubles. The answer came with an enormous shrug of the shoulders.
"You are serving the Sultan. Hardship should be sweet!"
"I should be more fit to serve him if I got more sleep and rest."
He waved a fat hand about the tent.
"Look at me! Here I am, an officer of rank and"--shooting a knowing look at me--"I have not even a nice blanket."
"A crime! A crime!" I interrupted. "To think of it, when I, a humble soldier, have dozens of them at home! I should be honored if you would allow me--" My voice trailed off suggestively.
"How could you get one?" he asked.
"Oh, I have friends here in Saffêd but I must be able to sleep in a nice place."
"Of course; certainly. What would you suggest?"
"That hotel kept by the Jewish widow might do," I replied.
More amenities were exchanged, the upshot of which was that my four friends and I were given permission to sleep at the inn--a humble place, but infinitely better than the mosque. It was all perfectly simple.
---